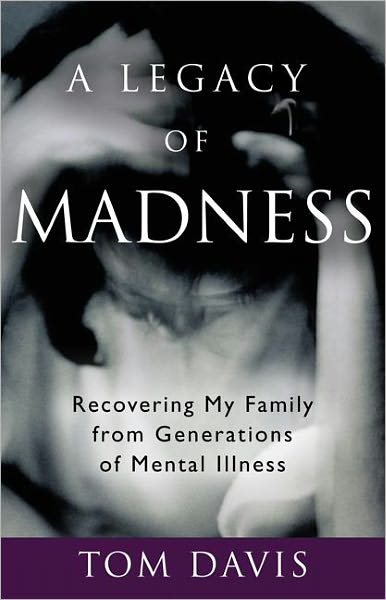 ENDORSEMENTS/REVIEWS
Former First Lady Rosalynn Carter, who is nationally known for championing mental health causes: "A Legacy of Madness breaks down the barriers of silence that shroud mental illnesses within families for generations. It also details the larger problem of stigma and the failures of a system ill-equipped to provide adequate treatment and support. By sharing the story of his family history and his own personal journey, Tom Davis provides hope and inspiration to others."
Publishers Weekly

: "Rutgers journalism professor Davis examines the problems that plagued his family for four generations. Peering into the past, he opens this family history with a vivid recreation of the day his mother died, ending her 30-year battle with mental illness ... Stunned when he learned that his great-great grandmother and her eldest son committed suicide on the same day in 1928 and that five years later his great-grandfather died of self-inflicted gas asphyxiation, he felt he had discovered "some lost treasure" and began the intense research that led to this haunting, soul-searching book."
Former New Jersey Gov. Richard Codey, who is also nationally known for championing mental health causes: "This is a book from the heart, and for any family with somebody who has a mental illness, this is a must read."
BOOK SIGNINGS/READINGS:
Information on book-signing and other promotional events can be found by clicking here: Tom Davis Goodreads page.
SUMMARY
Dorothy Winans "Dede" Davis had worried, fussed, and obsessed for the last time. Her heart stopped beating in a fit of anxiety, soon after her wobbly legs gave way. Helplessly self-absorbed and severely obsessive compulsive, Dede led a tormented life. She had moved from nursing home to mental institution in recent years, but what really caused her death?
The story of a loving family coming to grips with its own fragilities, A Legacy of Madness relays Tom Davis's journey to uncover, and ultimately understand, the history of mental illness that led generations of his suburban American family to their demise. In the end, we witness Davis's powerful transition as he makes peace with the past and heals through forgiveness and compassion for his family—and himself.